FRACTURED FAIRY TALES

BY
MARILYN KINSELLA
Click here...For the new, updated version
Fractured Thoughts
Welcome to the wild and wacky world of fractured fairy tales. First of all - what is a "fairy tale"? A fairy tale is one type of story under the heading of "folk tales." There are many types of folktales: a tall tale, a cumulative tale, an animal story See Folktales from Simple to Complex. Sometimes, people use the term folktale and fairy tale to mean the same thing. A fairy tale is a folktale, but a folktale is not always a fairytale. A fairytale is usually longer than most folk stories and takes place in the nether realm of far, far away and a long time ago. They often have some sort of royalty involved in the story (including the fairy realm); the main character (s) go on a journey where he/she is tested; they have some sort of magical help along the way; good triumphs over evil; there is a transformation or reward at the end. They usually start with "a long time ago, in a place far away" and end "happily ever after." The characters and the journey are often metaphors for people and challenges that are universal. Fairy tales are often fractured, but they are not the only folktales that are fractured.

So, what is a fractured fairy tale? It is a fairy or other folk tale that has been modified in such a way as to make us laugh at an unexpected characterization, plot development or contrary point of view.

I was first introduced to fractured fairy tales on the old TV cartoon show called "Rocky and Bullwinkle." During that show they included a short fractured fairy tale. It was my favorite part of the show. Since then, I have loved fractured fairy tales.

Since the mid 1980's, there have been many new tales told and written in the fracture tradition. Some of them have been immensely popular like The True Story of the Three Little Pigs and others have simply died on the vine. At the end of this paper I have included a short bibliography of titles and authors that you may want to check out at your local library.

But, perhaps, you want to try your hand at rewriting a favorite old folk tale adding your own twists and turns and dashes of bizarre humor. Voila! You have just created your very own fractured fairy tale. Here are some ploys used by authors to produce award-winning books. Examples of published works are in parenthesis.
| | |
| --- | --- |
| | Put the story into verse ("Cinderella with Benjy and Bubbles") or a rap ("The Three Little Pigs" by storyteller Perrin Stifel). |
| | Tell it from a different point of view. For instance, did you ever think how the witch felt having two bratty kids nibbling on her newly decorated gingerbread house? ("The True Story of the Three Little Pigs). |
| | Take a character from the story and tell another story concerning that character. For instance, tell a story about the woodcutter in "Little Red Riding Hood" or the cow, Milky White, that was traded in "Jack and the Beanstalk." |
| | Write a different ending. Perhaps, Jack didn't get away from the giant - what happened then? Or, you could tell what happened after the story ended. ("The Frog Prince, Continued"). |
| | Make the main character a different type of person or even change the person into an animal ("Ruby" and "Cinderella Penguin") |
| | Add new characters to tell the story (Cinderella with Benjy and Bubbles"). |
| | Have well-known fairy tale characters meet: ("Adventures of Simple Simon" or the musical, "Into the Woods"). |
| | Or, go completely bizarro, and do a combination of the above. ("Stinky Cheese Man and other Fairly Stupid Stories"). |
| | There is a storyteller, Ed Stivender, who makes up fractured fairy tales in a matter of minutes by using the following formula: |
- select a famous fairy tale character.
- select another famous fairy tale character.
- select a modern saying.
- select a famous place.
- select a problem (silly or serious; ex.- environment, a bad hair day, allergic reactions, literacy,
no money, etc.)
Now you have all the elements for a story - 2 main characters, a setting, a hook (saying), and a conflict. It is up to your creative juices to combine these into a story. Sometimes the elements can be put together to make a funny, fractured tale. Other times, it may fall short of your expectations, but it will still be a funny, fractured adventure.

BIBLIOGRAPHY OF FRACTURED FAIRY TALES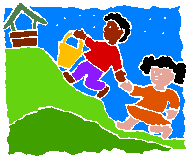 The Frog Prince Revisited by Marilyn Kinsella (only on-line)
The Demon Goat by Marilyn Kinsella (only on-line)
The Gingerbread Man - adapted for Christmas by Marilyn Kinsella on-line
WEBSITES

Wacky Websites for Fractured Fairy Tales