Fractured Thoughts Workshop

Fractured folk tales including fractured fairy tales, fables, myths

By

Marilyn A. Kinsella
What is a fractured tale? Usually, the fractured tale is a folktale from the oral tradition that is retold to find unexpected humor in the way it portrays characters, uses a different vernacular, has plot deviations and twists, or uses writing ploys.

In my personal opinion the types of folk tales that are good for fracturing include fairy tales, morality tales, fables, and some mythology. Folk tales is an umbrella term for many types of oral traditions stories (See Folktales From Simple to Complex ). Fairy tales, morality tales and fables are three of types of folktales. Mythology is usually not lumped together with folk tales, because it is the collection of stories that has many religious aspects. In libraries they are not in the folktales' 398.2 section, but rather they are with religious books. I have heard Greek myths fractured and they are hilarious. However, (IMHO) fracturing the mythology of an existing religion outside one's own religion could be construed as hurtful. The same goes for parables, Sufi tales, and many wisdom tales that have a religious or spiritual base. Having said that, there are a plethora of stories out there from which to choose.

First of all, the story you choose to fracture has to be a recognizable folk or fairy tale - otherwise the humor is lost. Most trickster, tall tales, and noodle head stories are not good for fracturing, because there is already the element of humor in them. It is the more serious fairy tales and morality tales that are easier to fracture because of their more serious nature and archetypical characters.

What are not truly fractured:

Folk tales have changed and morphed as they traveled around the world creating cultural versions. They may change the characters and animals to reflect their culture and the setting is often different, but these versions do not intend to make the story funny – just more relevant to the listeners. For instance, the story of "Little Red Riding Hood" is called "Lon Po Po" in China. There are cultural versions in many other countries. However, fractured versions may only be funny within a culture since they often rely on the humor, references, and word play unique to that culture.

Many storytellers find folk tales and write their own version of it. In doing so, oftentimes, their personality and humor naturally comes out in the story. But, they are still telling the story without changing the integrity of the tale. They may add a few fracturing ploys listed below, but it doesn't change the story. In Marilyn Kinsella's story of Rumpelstiltskin, she adds a lot humor and participation, but it is not truly fractured. It is her version of the story. There is, sometimes, a fine line between one's version and truly fracturing a tale. True fracturing will usually alter the tale in some stark contrast to the original story. An exception to this is when a teller exclusively or excessively uses a ploy such as spoonerisms, dialect, or alliteration. They don't alter the story, but the fracturing comes from the overuse of the ploy.

Parody is another form that is very close to fracturing. According to Wikipedia a parody is, "in contemporary usage, a work created to mock, comment on, or poke fun at an original work," A good parody will spoof or lampoon a piece of art, a speech, literary story, movie, tv show, or song. It often relies heavily on satire to make social or political points. IMHO, a parody is often a more modern spoof on current events or arts. It doesn't lend itself to folktales because those stories are ancient. Part of the fun of parodies is that it lampoons recognizable people, events and arts. Storyteller, Beth Horner, tells Ravin's of Piute Poet Poe. Poet C. L. Edson wrote the parody (ca. 1955) mocking Poe's alliteration and repetition:

"Prophet," said I, "thing of evil, navel, novel, or boll weevil, You shall travel, on the level! Scratch the gravel now and travel! Leave my hovel, I implore."

A Short HIstory:

It's rather difficult to figure out when fracturing fairy tales started. James Thurber wrote "The Little Girl and the Wolf" in 1939. It was the late 1950's when Rocky and Bullwinkle Show had a segment on Fractured Fairy Tales. Perhaps, it was that show that coined the phrase "fractured fairy tale"… or was it older than that? I don't know. Since that time, there were some fractured tales published. But, in 1986, when Jon Scieszka authored The True Story of the Three Little Pigs, it opened the door for publishing a plethora of fractured fairy tales. Now, there are not only books with fractured tales, but plays, DVDs, and even video games using the fairy tale motifs. Storytellers often create their own fractured tales. However, fractured versions may only be funny within a culture since they often rely on the humor, references, and word play unique to that culture. An interesting fractoid that I uncovered doing this paper is that, according to Richard Martin, who lives and tells extensively throughout Europe... fractured fairy tales are not at all popular in Europe. It really seems to be an "American" genre!

Writing fractured fairy tales

When you decide to write your own fractured tale begin by knowing who your audience is? Fractured fairy tales can be for children, teens or adults. Once you know who your audience is, it is easier to modify, fracturfy and solidify! Most fractured tales don't work on pre-school to second grade. They may listen attentively to the story but they won't get the play on words, puns, references, etc. Most students that age, either don't know the original version well enough or they are too young to get the humor. Don't get me wrong…they love the story. They listen and laugh but at different places. They think that this is the way the story has always been told.

Ploys to use when fracturing stories:
| | |
| --- | --- |
| | Have the plot go off in a different direction – Oftentimes, this will happen naturally once you have altered the characters or settings. Karen Young in "The Princess and the Frog" tell the Frog Prince but unexpectedly goes off in another direction, when the princess discovers that the frog likes throwing balls as much as she. |
| | |
| --- | --- |
| | Change characters – Change people into animals and animals into people. In the Schnook Family (the story of trying to blow out the candles) I've changed the family to clowns and sometimes into bears. Megan Hicks does a series called "Groundhogs Meet Grimm" with groundhogs in pivotal roles. |
| | |
| --- | --- |
| | Add new characters - David Novak weaves a tangled web in his "The Heroic Story of the Itsy Bitsy Spider" by not only going off in different directions, but also by adding new characters like "Biggie Wiggie" to the cast of this classic nursery rhyme. |
| | |
| --- | --- |
| | Expound on why things happened in the story giving a new spin on the outcome – In The Frog Prince Revisted by Marilyn Kinsella it's the Princess's mother, the queen, who planned the whole thing. |
| | |
| --- | --- |
| | Have the archetypical characters don different attitudes – Instead of Cinderella being sweet, have the wicked step-sisters be sweet and portray Cinderella as conniving. |
| | |
| --- | --- |
| | Place the story in a different setting – This ploy has been used extensively placing the story in the Wild West, Mexico, the North Pole, modern-day city, etc. Or have a character time travel into another time and place. |
| | |
| --- | --- |
| | Use of puns – Leanne Johnson was a master at puns. She wrote Hansel and Gretel from the duck's perspective. It was full of the "pun"iest humor that was her forte. |
| | |
| --- | --- |
| | Tell the story from the point of view of another character or even another object in the story –Jon Scieszka's The True Story of the Three Little Pigs the Big Bad Wolf tells his side of the story. |
| | |
| --- | --- |
| | Tell the story as if the person telling it were a dog, cat, or mouse – Dog Tales by Jennifer Rae. |
| | |
| --- | --- |
| | Extend the ending to tell you what happened after the tale normally ended – The Frog Prince, Continued by Jon Scieszka. |
| | |
| --- | --- |
| | Tell what happened to one of the characters in another story – What happened to the cow, Milky White, in Jack in the Beanstalk? Brock Cole in The Giant's Toe tells the story of a giant before Jack comes to his door. |
Overuse alliteration - Sue Black tells a funny rendition of Goldilocks using many "g" words called Goldi in "G". Here is the first line: "

In the Grizzly garden, the green gabled gazebo glittered gloriously."
| | |
| --- | --- |
| | Overuse another type of word "fractur-i-zation" as Linda Gorham employed in "The Three Pig-i-zation" – a fractured version of the Three Little Pigs. This includes dozens of words that end in "ation" and "ization". To hear and see go to http://www.lindagorham.com/videoization.html |
Use spoonerisms to tell the story –

Spoonerisms are phrases, sentences, or words in language with swapped sounds. Usually this happens by accident, particularly if you're speaking fast. Here is a great website - Goonerisms Spalore! – website devoted to retelling folk tales. Storytellers, Hardy Garrison and Willy Claflin's Maynard the Moose, tell stories using spoonerisms.
| | |
| --- | --- |
| | Use legalese to tell the story - Legally Correct Fairy Tales by David Fisher |
Use the vernacular of another culture - Cajun

Bourbon Street Musicians

by Kathy Pri

ce or Barbara McBride Smith who uses a Texas accent and colloquialisms while telling Greek myths.
Add some anachronisms (in the "Frog Prince Revisited"… "

Her mother, the Queen, wanted to find the perfect husband for her daughter so she'd move out, and the queen could convert her old room into her personal training center complete with spa and Jacuzzi"

.
Add some present-day sayings - In "The Frog Prince Revisited"…"It was all because the Queen wanted her own space!"

These sayings can become dated and clichéd rather quickly, but they are fun to put into a story while they are hot.
Add songs to the story - Linda Gorham in "

Little Red

"

– a Motown version of Little Red Riding Hood. It's full of Motown song lines.
| | |
| --- | --- |
| | Add timely, political humor (just remember that political humor can be a red button). For instance, a story may use Chicken Little's quote – "the sky is falling" to infer that a certain politician is fear-mongering for votes.. |
| | |
| --- | --- |
| | Use string/handkerchiefs or other props – David Novak pioneered using string and handkerchiefs, as he fractured favorite tales. |
For adults – sexual innuendos – inferring that the Wolf in Little Red Riding Hood is a cross-dresser or that the wolf has a shoe fetish as in Linda Gorham's

The Prince's Version of Cinderella – "Did you know the Prince had a shoe fetish? Most people don't know how it all REALLY happened!"

; double entendres – using words that have two meanings…one of which has a sexual connotation; gratuitous "violence" - In Thurber's "Little Red Riding Hood" he has Red drawing a gun and killing the wolf at the end of the story; and references to current political or Hollywood scene.
| | |
| --- | --- |
| | Take a well-known children's song and tell it as a story – Marilyn Kinsella in "The Demon Goat" tells the story of "Bill Grogan's Goat." |
Tell the story and relate it to a personal story - as in Linda Gorham's story "

Prince John" – a version of Cinderella from a personal point of view. She uses imagery from the story and meshes it with her real life romance with her husband, John.
| | |
| --- | --- |
| | Add asides in the form of comments (Geesh, that's disgusting) or in second person (Do you believe the Queen really said that!) |
| | |
| --- | --- |
| | Or use a combination of some of the above. Most fractured tales do employ a variety of ploys to bend and reshape the story. |
You can write a fractured tale by simply telling it as a story. Here are some other ways to
present a fractured tale:
Rap – Naomi Baltuck's "Little Rap Riding Hood

Poem – Phyllis Hostmeyer – "Rumpelstiltskin Ballad" – The gnome spins his gold and the queen fights to save her child – but everything is done in rhyme.

Using poetic pentameter – David Novak's "Cinderella" and "Sleeping Beauty"
Words set to known song – Roger Rose's Little Red Riding Hood to the tune of "The Beverly Hillbillies."
Puppet Play: Too Much Noise performed as a Christmas story in Marilyn Kinsella's Santa's Noisy Christmas and a Halloween story in Too Much Noise on Halloween Night

Picture Book

Reader's Theatre – Marilyn Kinsella's Little Eight John

A Play -

12 Fabulously Funny Fairy Tale Plays

by

Justin McCory Martin

As a newspaper article that follows the format of who, what, where, when, why and how peppered with some quotes from the characters.

Interview (written or as a radio show) different characters in the story for their version of what happened. Karen Young and Gale Rublee Portman developed a workshop where two detectives "Grimm and Andersen" interview eyewitnesses in "The Case of the Missing Little Red Riding Hood and Grandma."

Write the diary or journal of one of the characters

Write letters to famous folk figures either as yourself…or some other folk tale character.

Mime - Beth Horner and Sarah Howard tell Goldilocks using a kazoo and miming actions.
Storytellers' Fractured Tales:
David Novak: "Little Yellow Fellow," "The Heroic Journey of the Itsy, Bitsy Spider," and "Red Riding Hood" See a string version of "Jack and the Beanstalk" HERE.

Barbara McBride Smith – Down-home Mythology (Greek Myths) on stage and in her book Greek Myths, Western Style: Toga Tales with an Attitude

Naomi Baltuck – From Naomi -

"One my favorites is

Little Rap Riding Hood

, which serves up an old favorite with enough humor and sass to appeal not only to younger kids, but to teenagers and adults as well. I give the raps a beat, try to include snappy choruses which invite audience participation, and I also like to include a message for our times. In

Little Rap Riding Hood (

on my CD

Crazy Gibberish and Other Story Hour Stretches available on my website)

Little Red is no longer a victim of abuse; the rap concludes, "These days wolves don't do too good when they pick on girls like Riding Hood..." In

Little Piggy Rap,

my version of

The Three Little Pigs, (

on my

CD Crazy Gibberish Too!)

, it is a streetwise piggy who refuses to endure the bullying of the wolf in silent suffering. I conclude that rap with "When the wolf comes knocking, don't quiver there in fear: grab a phone, be quick to squeal, and watch your little rear."

"Elly Garrard - (Naomi's daughter and co-performer) wrote a couple of tellable fractured stories - A Story Poem called

"Confessions of an Ugly Duckling," which takes a jab at our society's obsession with celebrity culture while addressing the mixed blessings of fame and fortune. She also wrote "Vassilisa and the Three Bears," a gentle satire of Communist Russia. Elly says, "The humor in my works are rooted in an exaggeration of something that is true in the real world, and reflected anachronistically in a traditional fairy tale. It creates a parallel between the familiarity of a fairy tale and an element of modern culture that we are also very familiar with, yet taken out of context, it surprises the listener and gives a fresh take on an old tale."


Bobby Norfolk – "The Three Billy Goats Gruff Rap"

Perrin Stifel – "The Three Pigs Rap"

Phyllis Hostmeyer - "Rapunzel Rap" – A boy named Bob falls for Rapunzel and helps her to escape the castle when he roars in on his ATV.
And "Little Red Hood Song" – No need for a woodcutter because Little Red is a Hill Billy Kung Fu Champ.
Roger Rose – Little Red Riding Hood song done to "Beverly Hillbilly" theme.

Marilyn Kinsella – "The Frog Prince Revisited" and "Demon Goat"

Leanne Johnson – "The Duck's Tale" in Hansel and Gretel. Since Leanne's untimely passing, her story is told by Don Falcos.

Pat Nease – "The Less than Tinder Box" (Jack's involved in this one)
"Henny Penny" Continued (plus a Henny Penny story in rhyme)
"Hi, Jack" a story containing a multitude of well-known Jacks (Spratt, Horner, Frost, Nimble, etc.)

Willy Claflin and his lap puppet, Maynard the Moose, fracture Greek myths and folktales on stage and in his CDs "Maynard the Moose Tales" "And Maynard the Moose Sleeping Beastly and Other Tales" "The Uglified Ducky," "The Wolf Under the Bed," and "Willy Claflin and Friends."

Nancy Schimmel's "Woodcutter's Story" in Just Enough to Make a Story splices into Little Red Riding Hood

Brady Parson – "Chipper" a cowboy version of Cinderella.

Megan Hicks - CD - Groundhogs Meet Grimm - "The Groundhog Who Lived in a Vinegar Bottle," "Three Little Groundhogs and a Wolf," "Groundhog Godmother." Hear clips - www.cdbaby.com/meganhicks

Linda Gorham - "The Three Piz-i-za-tion, "Little Red," "The Prince's Version of Cinderella," and "Prince John."

David Novak - "Little Yellow, Jello, Fellow," "The Heroic Story of the Itsy Bitsy Spider" and much more
Storytellers who tell authored, fractured tales:
| | |
| --- | --- |
| | Barbara McBride Smith tells Bubba the Cowboy Prince from the picture book by Helen Ketteman. Miss Lurleen, owner of a big cattle ranch, takes the place of Prince Charming. |
| | Many storytellers tell The True Story of the Three Little Pigs by Jon Scieszka. |
| | Many tellers tell the following authored books. These are not from a fairy tale, but they do fracture recognizable, fairytale preconceived notions or motifs – The Paper Bag Princess by Robert Munch, The Tough Princess by Martin Waddell, Sleeping Ugly by Jane Yolen, and Petronella by Jay Williams.. |
Ideas from other Storytellers:
Lois Sprengnether Keel
I like to make fractured tales with my audience. I do it in "Mad Lib" style & purposely ask the questions, scattering them about in what seems a random fashion, so it doesn't become obvious what story we are creating.

As an example, I ask the audience to give a color, give a favorite food, give a type of career or grown-up job, give a predator animal, give a type of relative. Point out the type of sweatshirt or sweater called a "hoodie" & begin the story of Little ___ Hoodie. That career or grown-up job, by the way, is the 1 who saves Little ___ Hoodie & his/her (I tend to go with whichever is more numerous in the audience) relative. In a recent version a lawyer had to do the saving. . . what fun!

LoiS(ticking to just the facts & that's my story!)

Judith Wynhausen
Judith wrote the following "Miss Muffit" fractured Mother Goose (whom she portrays) for the 2008 Summer Reading Programs called "Catch the Reading Bug."
Spidey the spider
Was weaving her web wider
To lure in some bugs to eat.
Along came Miss Muffet,
Who plopped down her tuffet
And tore up Spidey's web with her seat.

Spidey the Spider
Climbed up besider her
To get an apology.
Muffet let out a shriek,
Spidey's chances looked bleak,
And away Miss Muffet did flee.

I usually tell Cinderella and ask for a character from another fairy tale, a character from today's life, three things used in school . . . and a NASTY HABIT! It is fun working with this format because the kids all wait for the selections to come up. I usually write them down just to make sure I get them in. This really keeps the teller thinking on a regular basis and gets the attention (and listening skills) of the class into high gear. I also always try to put the "Nasty Habit" right at the end of the story so that the kids are waiting and listening for the entire story to find out how I put it in Cinderella. 95% of the time kids will choose "Picking your nose" as the nasty habit so I have a special ending just for that event.


Ed Stivender – Pioneered improvising fractured fairy tales on stage. He asks the audience for 2 folk characters from different stories, a problem, a saying, and a place. Then, he plays a harmonica or banjo until the story forms and he spontaneously tells a fractured tale.
Ideas for Workshop Whole/Group/Pair/Individual Work

Pic and pan from Fractured Workshop in Waikiki

A beginning activity to the following - have the whole group bubble a character before actually trying to write the story. Put the character's name in the middle of the paper and free think any and all words and phrases for the character. See if they can find a pattern that may lead them to the story.
| | |
| --- | --- |
| | Group work: take one story and fracture it by having one group tell it using some of the following: different point of view, add puns, twisted plot, what happened after the story ended, or what happened to a minor character or object in the story. |
Example: The Frog Prince - One group tells it from the frog's point of view, one has unexpected plot developments, one tells what really happened after the princess threw the frog on the wall, tell the story of the witch who turned the prince into to the frog.
| | |
| --- | --- |
| | Group work: Have a different folk/fairy tale for each group. Have each person in the group tell the story from one of the character's point of view. |
Example: Hand out 4 different folktales to the four groups. Each person in the group that receives "Hansel and Gretel" would pick one character- : Step-mother, Father, Hansel, Gretel, Witch, Duck, Birds who ate the bread crumbs.- and tell the story as that character (either in first person or as third person, but making the character central to the telling.).
| | |
| --- | --- |
| | Group work: take different stories and let each group work with a different form – raps, poem, song, readers' theatre, news article, interview. |
Example: Rapunzel as a rap, Hansel and Gretel as a song, Frog Prince as a radio interview.
Group work: Make a newspaper with articles about a particular fairy tale. Write an editorial, head lines article, follow-up article, obituary, letter to the editor, editorial cartoon, feature article, etc.

Example: Cinderella: One group makes a story into the headline article - "Mystery of Lost Shoe;" one writes a follow-up article about what happened later (what happened to the evil stepsisters); one writes and obituary for someone who died in the story (death of Cinderella's father), one writes and editorial about relying on "fairy godmothers:" to make things right, one writes a letter to the editor complaining that child services are not doing their jobs; one writes a feature article on how to make a dress using scraps around the house.

Group or pair work: Give each group a card with a well-known nursery rhyme to fracture. Click HERE to read fractured nursery rhymes from my workshop. Or, take a well-known nursery rhyme with definitive characters in it and tell what their mothers would say. Click here to read fractured nursery rhymes written for Mother's Day.
| | |
| --- | --- |
| | Group/pair/individual: Give each person or group a paper with the following written on it: Name of a folk/fairy tale character__________; Name of present day person___________; Everyday problem_____________________; Nasty Habit _______________________; an everyday saying_________________________________. Give them enough time to come up with a silly, fractured tale using those elements. |
| | |
| --- | --- |
| | Whole Group: Write out a mad-lib based on a simple folk tale, but don't tell the group what the folktale is. Blank out certain pertinent words. Ask the group for types of words to fill in the blanks - be sure to mix these up, so the group won't forsee what tale you are fracturing |
Example: See a whole group work on Goldilocks Mad-lib by clicking HERE.

A good website with many ideas on how to fracture a tale: http://www.readwritethink.org/materials/fairytales/
Websites:
_____________________________________________________________________________________________________________
Adult Fractured Fairy Tales

Adult fractured tales that are still humorous but humor is for adults:
<![if !vml]>
<![endif]>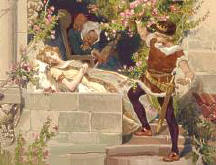 Naomi Baltuck's writers' group helped me discover the name for these stories. I've heard the term "re-imagined," but that didn't quite fit. After some discussion, they looked up the definition for refracted:

"1. The turning or bending of any wave, such as a light or sound wave, when it passes from one medium into another of different optical density.

2.

Astronomy

The apparent change in position of celestial objects caused by the bending of light rays entering Earth's atmosphere."

It fit perfectly for the process writers and storytellers use to take an existing fairy tale - taking the story as it passes from one medium into another by giving it a different depth and density. Or, bending the story as it is told to adult audiences.

Refracted Tales: Use certain folk/fairy stories or elements to tell a deeper, metaphoric, relevant story. Although they employ some of the fracturing techniques, these are serious stories that deal with three-dimensional characters with both good and bad traits. They develop storylines that tackle issues such as prejudice, teenage pregnancy, substance abuse, violence, human rights, and more. Some of these literary, refracted tales are adaptable for telling:
Series of Fairy Tales for Adults by Datlow, Ellen, and Terri Windling, editors:
| | |
| --- | --- |
| | Black Thorn, White Rose. (Avon Books, 1994.) A collection of fractured fairy tales for adults, in the fantasy realm. Sleeping Beauty is a favorite in this collection of 18 tales that range from the intriguing to the bizarre. And Black Heart, Ivory Bones |
| | de Lint, Charles. Jack the Giant Killer. |
Urban Fantasy bringing "Jack" to Modern Canada
| | |
| --- | --- |
| | Lee, Tanith. Red as Blood; or, tales from the sisters grimmer. New York: NAE Books Inc., 1983. Fantasy/sci-fi adult versions of nine tales. Religious/feminist content and White as Snow: a retelling of Snow White darkly intertwined with the myth of Demeter and Persephone. |
| | Tepper, Sheri S. Sleeping Beauty. A dark fantasy. |
Wrede, Patricia. Snow White and Rose Red. An adult novel from the Fairy Tales series. The story of two sisters, placed in Elizabethan England.
Yolen, Jane. Briar Rose. Tor Books, 1995. A holocaust story, using the tale of Briar Rose, from the Fairy Tale series.

Brust, Stevens.

The Sun, the Moon, and the Stars

Modern tale entwined with Hungarian story.

Dalkey, Kara The Nightingale

Frost, Gregory.

Fitcher's Brides (Fairy Tales)

Take off of classic Bluebeard tale.

Martin, Rafe Birdwing - a story about what happened after The Seven Swans.
| | |
| --- | --- |
| | Cadnum, Michael Can't Catch Me and Other Twice Told Tales This collection of deftly rearranged myths and fairy tales rekindles the excitement of reading adored childhood stories. These witty, perceptive stories from an award-winning children's author cleverly twist, turn, and veer off into unexpected, enchanting territory. |
Storytellers who tell deep, metaphoric refracted tales:
| | |
| --- | --- |
| | David Novak in his CD "Chaste White and Blood Red" David tells the old folktales but then tells personal stories that draw from the metaphors and the journeys within the old tales. |
| | Milbre Burch in her CD "Sop Doll & Other Tales of Mystery & Mayhem" Milbre tells versions of well-known (and lesser known) folk tales from another point of view. |
| | Janice Del Negro authored and tells Lucy Dove – a female protagonist takes the place of a male seamstress in her retelling of the Tailor's Ghost. She also tells a version of "Rumpelstiltskin" from ole Rumpy's point of view. |
| | Roger Rose – "An Alternative Cinderella" - Cinderella is really a boy, brought up as a girl by her man-hating mother. "Courtship of Sir Gawain" which portrays Lady Ragnell as a woman more liberated than is acceptable for her time rather than as a hideously ugly victim of enchantment. "The Seal Maiden" is a variation of the traditional Selkie legend in which a human girl loves a seal -- no enchantment involved, he's a real seal -- and bears his child |
| | Mary Hamilton - "The Eleven Cinderellas" - retelling of the Cinderella plot through once while telling the bits and pieces from eleven different cultures. |
| | Barbara Schutzgruber - "The Pied Piper" - told from the Bridges point of view. |
HOME WORKSHOP PAPERS
<![if !supportLineBreakNewLine]>
<![endif]>