Now you, too, can own a piece of the rock!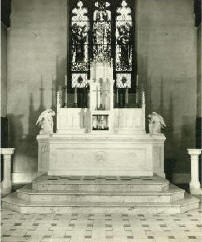 "Here is another picture, the chapel, with its white alabaster walls, communion rail and altar of shining turrets. The sun behind the fine stained glass windows splashes color onto the pews where we kneel in reflective repose. The colors move ever so slowly like the tide washing over us in pools of azure, gold, velvety purple, and garnet red - its color bathing our folded hands reminding us of our budding womanhood." From "Shards of Memory"

There was a lot of marble used in our chapel. As you can see, there were pedestals, statuary, and steps and flooring that seem to made of marble. There were also, according to my recollection, a marble altar rail and marble sills under the stained glass windows.

Several years ago Les (Mike) Berkel of Belleville made a lot of jewelry from the marble at the request of a class reunion. He has held on to the rest of the marble that he polished into stones. He would like to tell our alumnae about these pieces to see if there is any interest in purchasing them. Since I'm in contact with several alumnae from many classes, I said that I would put it on my website, send out emails, and post it on Facebook for those interested in buying them. There a lot of pieces - so think big!



Here is a sampling of his many pieces

I am selling them at cost plus a dollar each for shipping. I averaged the cost of the pieces at $5.00 each plus $1 each postage. It should be noted that the metal used in the jewelry is not real gold or silver but gold-tone and silver-tone. Above is a picture of some of the items. I have many, many pieces. So, please buy as many as you like - sisters, cousins, reunion gifts and. of course, for yourself.

For more information about the altar, the various pieces, and a link to an order form click here:
Marble Jewelry from the Chapel at the Academy
---

from: RAW 1964 October - see below
Pages courtesy of Class of 1952 - Eva Prpich Dunn
---
Courtesy of class of 1960 - Special thanks to Pat Enright Baeske

You will need Adobe (Acrobat) Reader installed on your computer in order to view the PDF file. If you do not have Adobe Reader, you may download a free copy of Adobe Reader at http://get.adobe.com/reader/otherversions/
---
Pages courtesy of JoAnn Kinsella Nadler Class of 1965

Pages courtesy of Carol Whobrey Mauchline - Class of 1965

Do you have some RAWs stored away? Break out those memories and send them to me for our AND webpages.

---
Here are your challenges:
1. Where is the chapel altar and stained glass today?
2. Where did this drawing appear:
3. What was the original name of Notre Dame back in 1859?
The future belongs to those who believe in the beauty of their dreams." Eleanor Roosevelt
---

Check-it-Out!
New Pages added to AND Webpages
More news and views from the Class of 1950
---
Class of 1965 Updates and new page:
---