One hot August day in 1911, the 20th to be exact, a little girl was born to Joseph and Adelia K.... They called her Veronica Adele. When she was two years old, the young family went to live in a beautiful house built by her father. It was in the hinterlands of a place called Fairview. She lived there with her older brother, Roland and her beloved younger brother, Lester. Joe, their father worked in the payroll office in the Black Beauty coal mine at the bottom of the hill. It was also where the street car from St. Louis ended. That's right. Old Fairview was literally the end of the line.

Vera loved that house built by her father. It was a two-story house with huge dormers that went out in four directions. Friends were greeted by a large front porch. The inside and out were decorated by her mother who had the golden eye of an artist. She planted a myriad of flowers around the house and gazebo. Inside were her oil paintings and tapestry hangings. One day, her father surprised the family by purchasing the miniature buildings used in an O'Fallon parade. There was a mini-pagoda, a fire station and a little house. It was there that Vera and her two brothers let their imaginations run wild.

To go to school they took the street car at the foot of St. Clair Road to the Edgemont Station and walked to St. Philip's. Vera loved her years at St. Philip's. It started her on a lifetime of study. She met with fellow graduates for many years.

But, it was Sister Enrica whom she loved the most. She was Vera's music teacher. At an early age Vera started taking violin lessons. It was obvious that she had a natural talent. Sometimes, at Christmas she would play "Ave Maria" from the choir loft at old St. Philip's Church. They said that when Vera played it sounded as if the angels sang.

Vera was encouraged to play at home, also. Since there were no CD's or tapes - or even records, the family made their own music. Adele was an accomplished pianist. She belonged to the Liszt Society. So everyone in the family played - Roland with his banjo, Joe with his harmonica, Les on his make-shift pot and pan drums, and Adele with her piano. "Come on Vera, let's play," her mother called. Whenever the East St. Louis La... or the far away Alton St.... came callin,' they were entertained by the K.... Concertos.

Vera went on to graduate from O'Fallon high School where she proved to be very athletic. She loved swimming and tennis. It was at one those tennis games that she met a young man from St. Elizabeth's parish. Back then, one was identified by the parish he or she belonged. Well, his name was Frederick - Frederick W. N... - or, as he came to called, Freddy. And so, the matched set became a love game.

They dated for quite some time. It was the depression and everyone had to work. For several years Vera worked at the Western Union Telegraph. What stories she would eventually write about that job. Finally, late in the thirties, with the depression ending, Vera and Fred got married. What a beautiful bride Vera made. One of their wedding pictures shows them at the gazebo surrounded by Adele's gorgeous flowers.

It was not long after that Vera gave birth to a little red-headed fellow named William. He was promptly followed by a hazel-eyed spitfire named Christopher. What can I say? The Bill and Chris stories are legendary in the N.... family

So, the young family established their home on St. Clair Road along with Grandpa Joe and Grandma Adele. Soon hints of war were raging in Europe when tragedy struck the household. Vera's mother, Adelia, was bitten by a tick. She languished for a week before succumbing to Rocky Mountain fever. Vera was devastated at the loss of her beloved mother. The pain was so intense that she felt as if music died when her mother died. How could she ever play again, when there was no joy in her heart. She vowed to never play the violin again.

But, you know, when you're an artist as Vera was, the artist will not be silenced. So, when Vera put down the bow, she picked up the pen. And she wrote and she wrote and …she wrote - volumes of stories, journals, poems, and articles for the Caseyville Advocate and later for the Fairview Heights Tribune. Some of her stories were published in the Tales from Two Rivers Anthologies.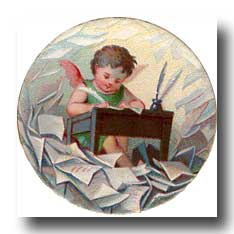 She, also, wrote and collected angel stories.
Vera and I shared our fascination with our spirit guides. It all happened with one of the stories she wrote. It was about a young mother who left her child in the back seat to run into the grocery store. (This story happened some time ago, when no one thought anything about leaving a child in a car.) She was at the produce section when she heard a voice distinctly say, "GET OUT NOW!" She dropped everything and ran back to the car. There she saw a derelict reaching into the back seat with her daughter cowering in the corner. "Go back under the rock you came from," she cried. Immediately, she recognized the voice she had heard. It was her angel.

The reason she wrote that story was because she was that young mother and I was the child in the back seat.

She went on with her writing to achieve membership in the prestigious National American Pen Women society. I guess you could say that she now made music with her words.

With the birth of Marilyn and Melissa, Vera found herself in charge of a seven member household. This was probably the busiest time of her life. She and Fred became charter members of St. Albert the Great Church. Vera became president of the St. Ann's Altar Society. All four children graduated from St. Albert and then went on to Catholic high schools. To help supplement their income, Vera began selling Avon, and later worked as the secretary at the Tuberculosis Clinic. After she retired, she continued her education by taking classes in writing and folklore at the P.S.O.P.

One by one the members of her household left, and she found herself living alone. It was then that she decided to move upstairs to her "apartment." Melissa and her family lived downstairs. The house was once again teeming with the joyous voices of children, her grandchildren.

How Vera loved her grandchildren. Sometimes they trickled in one at a time, and at others they came on like an avalanche - twenty grandchildren in all. And since each was so special to her, they deserve to be recognized. There's Shawn, Kyra, Trista, Maia, Tatiana, Parker, Sasha and Tory. There's Jenny, Mary Claire, Bill, Teddy and Ryann. There's Christine, Amy and Brian. There's Veronica, Sarah and the icing on Grandma's rich cake, Amanda. Vera loved it when they came to visit. They kept her young she would say.

Vera, also, did a lot of entertaining at the old house. Once a month she went to her card club meeting. Eventually, it was her turn to host the event. And what a flurry of activity ensued. Stanley products were hauled out by the bucketful. Everything in the house from the chrome legs of the dining room set to the dust bunnies under the beds were spit and polished. Then at seven o'clock, her friends came - Helen, Virginia, Hilda, Pauline, Florence, Corelia, and always, Peggy. With that sea of women, the laughter started like a ripple until it encircled the whole living room.

There was just so much laughter in her life. One time when Vera and Peggy come home from a church social, Vera dropped a cake upside on the sidewalk. They stood in shocked silence till Peggy quipped, "Well, I guess that's what you call an upside down cake." The laughter hit a 6.0 on the Richter scale.

Vera and Peggy called each other every day. Vera ironed everything back then - sheets, handkerchiefs, even underwear! As she ironed, she cradled the phone under her chin so the could talk to Peggy. They found a way to laugh even during the most mundane of chores.

As Vera graduated from Grandma to Great-Grandma and her beloved Freddy passed away, she repositioned herself in the old house to the two side bedrooms. There she continued to write, work her crosswords, and visit with the grandchildren. She stayed in that house until she was eighty-three. But, after awhile, it became apparent that living at home was not an option any longer, and she took up residence at Castlehaven.

While she was there, she proved the old adage, "Love springs eternal," was true. She met a young man of ninety-four, and they kinda took a liken' to each other. They were the talk of Castlehaven - holding hands and catching stolen kisses. Unfortunately, Vera suffered from progressive dementia. Her illness became a barrier.

It was during this time that Melissa moved next door to the old house. Christine, one of Vera's grandchildren, continued living there for the next couple of years.

Some people will say that the last year and a half of Vera's life was a sad time. But, I choose to believe that it was a bittersweet time. You see, she kept right on teaching - lying there in that bed unable to talk - only the occasional word, an expression, or sometimes a smile. She had accepted God's will - never getting bitter - just a quiet acceptance. It was during this time that I finally understood her unfailing message of love. Over the years she always found it in her heart to forgive. The words "forgive us our trespasses as we forgive those who trespass against us" were not mere words, they were her creed. She gave her love unconditionally. It was there for us whether we wanted it or not. She believed in the goodness of all people, and that everyone had different baggage tied to them that made it difficult to acknowledge the good. But, Mom could see through all that. And that's what Mom taught me - lying there unable to communicate - through the prayers, through the moments of silence, her message was loud and clear, "There is great healing with unconditional love." And that's why she was able to keep her loving spirit till the very end.

On October 19th, 1997, Christine moved out of the old house. Because of the powers that be, she had to reschedule her departure and left earlier than anticipated. The house, for the first time, in over 80 years was not completely empty. Later that evening, Mom also left us.

I imagine that as Mom entered into heaven, there were many to greet her including her beloved Freddie, her son, Bill, her father, and a lady in a blue dress holding out a violin and saying, "Come on Vera. It's time to play."