Picturesque Streetscapes/ Buildings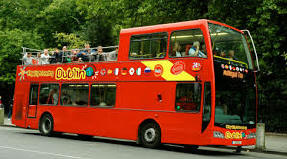 ---
Bridges on the Liffey River
---
Christ Church Cathedral

---
St Patrick's Cathedral

---
Dublinia - Viking and Medieval

---
Monday, August 24th

Larry and I left Chicago and flew to Ireland by Aer Lingus Airline. Although the trip was rather uncomfortable we gratefully landed in Dublin on
Tuesday morning - August 25th.

The bus was there with Aiden, our busdriver, and his right hand man, Coz. Since the rooms were not ready, he took us on a bus tour of Dublin. The Dublin Streetscapes were so picturesque I couldn't stop taking pictures of the streetscapes, the quaint shops and buildings, the river and it's many bridges, and the flourish of flowers at every corner.

We finally made our way to the historic Central Hotel.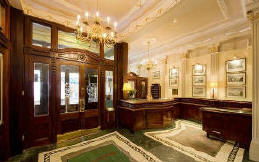 The woodworking and fine staircase were a marvel. The rooms were adequate. After a brief downtime, we took a walking tour with Dell. Larry and I found a small French Restaurant called The Green Hen - a nice meal to start our journey. It was rainy so we made our way back to the hotel to get some needed sleep.

---
Wednesday, August 26
Day One of the Tour

Our first Full Irish Breakfast - poached eggs, 4 different meats including blood sausage and liverwurst, toast, toasted tomato and mushrooms... and a sideboard with cereals, yogurt and muffins. At every breakfast they ALWAYS had brown bread.
We did a walking tour to Trinity College and it's fabulous library. They had a special exhibit on the main floor of the Book of Kells - so beautiful, historic, and fascinating. Then upstairs was the Trinity Library - awesome. It's seen in many movies. Wish we had more time, but so much to see and so little time. We got our free tickets for a touring bus.
http://historymedren.about.com/od/bookofkell1/p/book_of_kells.htm
After the tour we went on our own to see some sights. First we went to Dublin's National Museum. It was so huge. We only went to the building with the prehistoric exhibits - bog men, huge dug-out canoe, cache of gold items, spears, arrow points, the list goes on. It was all so beautifully displayed. We ate lunch at it's cafeteria. And then, onto the free double decker bus.
We went to Dublin's Christ Church Cathedral and St Patrick's (of course). Along the way we saw Dublnia - a medieval look at Dublin and the influence of the Viking invasion.
This is Day One and there was still so much to see.
We opted for the extended bus tour of Dublin. We passed the sights again along the Liffey River, the zoo, and botanical garden. When we got off,, we headed back to the hotel. But, we were on the wrong street. We couldn't remember the name of the hotel...and it was raining! Eventually someone led us in the right direction, After a rest, we went to a pub to have some nachos...and finally TO BED!!
---
Trinity College, Library and Book of Kells
No pix allowed in exhibit - from the net: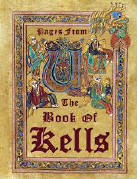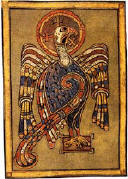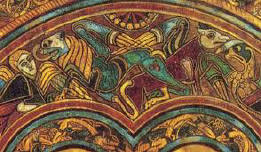 ---
Trinity Library

King Brian Boru Harp
---
Dublin's National Museum


Bog Man
---
---
Triptik Index
Day 3: Trim Castle, Kylemore Abbey and the Walled Victorian Garden.
Days 4 and 5 Galway to Dun Aengus.htm
Day 6 Cliffs of Moher, St Bridget, Bunratty.htm
Days 7and 8 Dingle and Day of Rest.htm
Days 10, 11, 12 at Clear Island.htm
Days 15-16 - Titanic,Glendalough,, Taylor's, Leaving
---